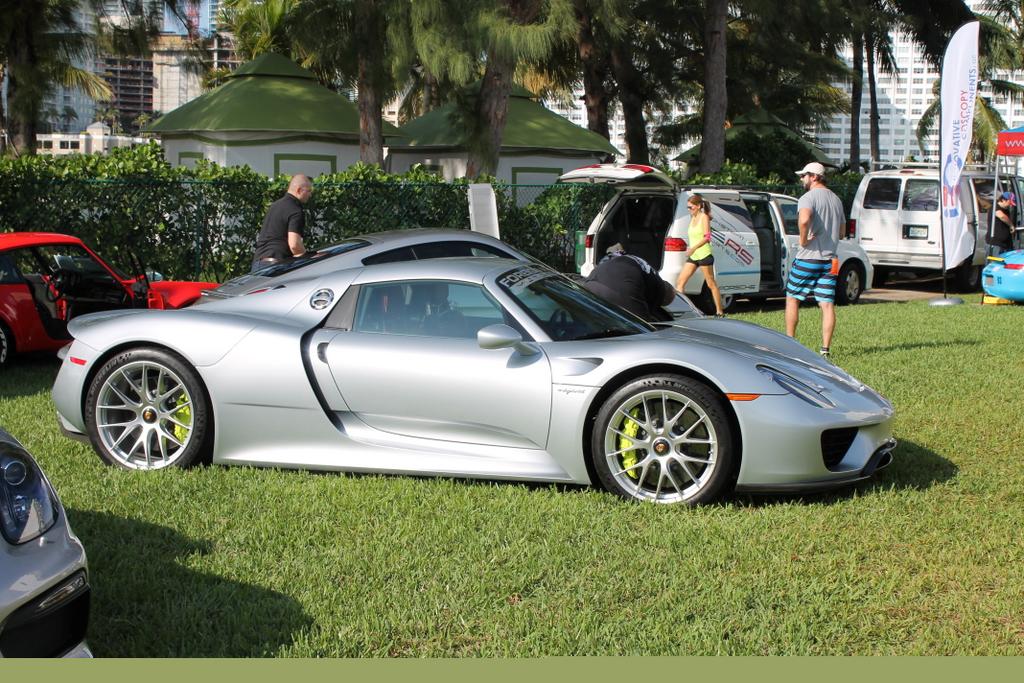 Another year has come and gone and so has another "Porsches By The Bay" also known as "The Mandarin Concours".  In spite of weather conditions, which had brought rain the day before, we managed to get through the event with only a 10 minute shower.  We had 56 cars participating and had a few who were a no-show due to the weather forecast.  I don't blame them as I left my baby at home too.
I say it every year, but it's nothing less than amazing the quality of the cars that show up. What comes out of people's garages in south Florida is simply incredible.  This year's big surprise was a 1979 930 Turbo brought by Kirk B.  This car was a marvelous representation of the Iconic '79 Turbo and had only 7,300 miles on the odometer. Kirk had the highest score of the day winning his Class and Best of Show, thus taking home the coveted Mike Joffee Award for Excellence.  This elegant trophy will now be presented every year in remembrance of Mike and awarded to the best car of the show.  Enjoy that Trophy Kirk!
There were many awesome cars and a couple of the winners worth mentioning who had exceptional good scores.  Alberto S. with his 1997 993S, Vincent V. who brought from his outstanding collection a rare 1976 Turbo. Yikes! Vince, where do you get all these cars?  Another guy to watch is Juergen I.  who is steadily accumulating a very nice collection of cars, bringing to the show a1969 911.
If you didn't win this year that's a great reason to come back and try again.  It's all for fun anyways, and you will definitely meet a lot of great people.  Talking about great people, a big thanks to the Judges, who diligently strive to be as fair and accurate as possible. Thanks to Jeff Marcus and his team of scorekeepers who have the cumbersome task of adding all the points and determining the winners in each of the classes.  Bobby Varela and his team who show up at sunrise to put the ramp up and organize the parking.  To all the volunteers a huge thanks, we could not do it with out you.  Also, to Pete Olliviere, a special guy and friend, who puts a ton of time and enthusiasm into these events.
Our sponsors this year were awesome and if you don't know them, it's worth your time to try.   Foreign Affairs Motorsports always go out of their way to support the Club, They run one of the largest independent Porsche shops in south Florida.  ParkHaus 1 Performance and Parts are quickly making a very nice name for themselves with their quality work and excellent selection of pre-owned collectables.  Miguel Potolicchio from TuneRS Motorsports has over 40 years  experience servicing and racing Porsches.  His passion and enthusiasm is a tremendous asset. Thank you all for your generosity!
Winners of the Gold Coast Chapter Porsches By The Bay for 2016 are:
Touring Class:
Class 2  1965- 1977  911/912/914/930
Vincent V., Helmut J., juergen I. (tied second), Nicholas E.
Class 3  1978-1989   911,930
Kirk B., George N., Bruno R.
Class 4   1990- 1998     993, 964
Alberto S., Andres M., Jose Luis A.
Class 5   1999- 2004 996s
Kevin T.
Class 6   2005 – 2012    997s
David A., Ruben A.
Class 7 2013-2016   991s
Ron G., Saxson B.
Class 9  All years  Boxters, Cayman, 4 door
Bob V., Sebastian M., Youseff H.
Class 11  All years modified, race
Robert S. and Alex McD. Tied First,
Wash & Shine Classes
Class 12   1950 – 1969
Paul R.
Class 13  1970-1989  All
Andres M., Ramon E. L. D., Haya C.
Class 14  1990-2004  All
Sebastian M., Lori R., Christopher P., Alex F.
Class 15  2005 -2015  All
Peter K., Dale B., Rikard A., George L.
---