Gold Coast Region History
A Condensed History Of The Gold Coast Region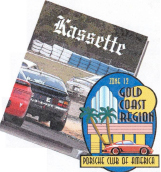 In October of 1963, about 40 people met at the Space Satellite Hotel in Pompano Beach to discuss forming what is now called the Gold Coast Region and joining PCA. That was accomplished and for 1964 elected Jim Pete as our first president.
We have come a long way since then. The newsletter, "Die Porsche Kassette" was formed shortly thereafter. It started out as two pages and was hand typed & mimeo­ graphed. (Anybody remember mimeographs?) It obviously improved little by little over the years to the beautiful and very professional product we have today thanks to our current editor, Roger Fabel, and of course, his many predecessors.
In the early days our only function was monthly socials held at various restau­rants in Dade and Broward counties. There were very few Palm Beach members at that time. Eventually the Palm Beach area grew and we would have at least (2) socials a year in that area. As of January 2021, Palm Beach county north of Boynton beach split from us to form a new region called the Gulfstream Region.
Autocrosses started to become very popular and in the mid 60's we joined the South Florida council of Sports Car Clubs and began entering in and putting on a lot of autocrosses. Once in a great while we had a rally but attendance was poor so it was shelved.
In 1968, Gold Coast got the bid to put on the National Porsche Parade. It was held at the Colonades hotel in Palm Beach. The National Porsche Parade is a gala affair consisting of about 400 cars (400 back them, over 750 today) from all over the country competing in the autocross, rally, concours, tech quiz, classroom tech sessions, door prizes, trophies and dinners. Back then the parades had names, ours was called "Sonnenfest" which means festival in the sun. Unfortunately, it rained so much that week, it became known as "Soggyfest". Gold Coast only had about 100 members at that time so putting on something of this magnitude was quite a feat.
In 1972, our board of directors decided to put on what is called a "multi-region" event. This event is like a mini national parade scaled down to a weekend affair with a concours on Saturday morning, a rally Saturday afternoon, an autocross on Sunday and banquets on Saturday and Sunday nights along with many door prizes and trophies. This event was originally called the "Florida Parade" for the first two years and was changed to "Sonnenfest" in 1974 and is still being put on not just by Gold Coast but with three other regions. In 2014 it is being hosted by the Citrus Region and will be held in Mt.Dora at the historical Lakeside Inn.
In 1984, thanks mainly to Ken Fengler, we had our first driver's education (DE) event held at PBIR. It was and still is a huge success and we currently hold 5 or 6 a year. This event is not actually a race although I'm not sure all the drivers know that, but rather a means to learn how to drive and handle your car at fairly high speeds.
In 1994, thanks mainly to Bob Varela, we had our first club race. The club race program run under the auspices of PCA National unlike the DE's is an actual wheel to wheel race. This is a huge four-day event held on the 2nd weekend of Febru­ary at the Sebring track. Club races are put on all over the country by various regions. Our club race right from the first one in 1994 has had more drivers every year (over 300) than any other club races held throughout the country. Not only is ours the biggest, but is also considered one of, if not the best club race each year.
From approximately 2001 through 2011, we had an excellent autocross series chaired all 10 years by Steve & Dottie Kidd. In 2012 it was chaired by Alex Ortega Jr. (along with many family members). Starting in January 2014, Steve and Dottie Kidd are temporarily taking it over again but I'm told its just for the short term.
For the past few years, we have had, and still have, a wonderful website created and maintained by Ian Gerada. Everything you need to know about Gold Coast is there for you to see and is always kept current.
Over the years, Gold Coast has been very well represented at the National Porsche Parades. We have won dozens of first place trophies in the concours and autocrosses including some top times by both men and women at the autocrosses. Trophies for those two events are not all we've accomplished, there is an award presented each year for the "Family of the Year" which we have one three times, more than any other region. We also had a member win the "Enthusiast of the Year" in 1999 and as a region, we won the "President's Trophy" 3 times which is an award given each year to a region based on number of entrants and distance traveled. Only the Alaska region has won it more times. The most prestigious award we have won however was the "Region of the year" for 1986. Ken Fengler headed the crew who put together the award-winning book. Ken Fengler has brought this book to this 5Oth anniversary party for anyone who would like to see what it took to win this award. (Without the help of computers)
For the past few years our executive board and specifically our social chair persons have done an outstanding job of diversify­ing our many social events including many "drive & dines' picnics," Pot Luck" dinners and we have even rented an entire movie theatre & showed the Steve McQueen movie "Le Mans" while the attendees were served lunch. There are a host of new events being put together right now. Keep reading the Kassette and checking the website. The social committee is working very hard to make sure that there will be something for everyone's liking.
In closing, those of us who have been around since the early days can hardly believe what has happened to this little region of less than 50 members to what is now over 2900 strong and puts us as the 19th largest region out of 149 and still growing. Even with all the changes that have taken place within our region and PCA in general. There has been a saying within PCA right from the beginning which I personally have always believed in and if you stick around long enough, you will too. The saying goes: "Porsche, it's not the cars, it's the people".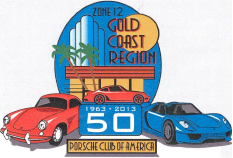 Gold Coast Past Presidents
1964
Chuck Wick
1965
Jim Pete
1966
Walt Lohmann
1967
Bob Simmons
1968
Stan Pearlman
1969
Lee Wood
1970
Buz Hahn
1971
Don Eliezer
1972
Bud Styles
1973
George Houser
1974
Mike Joffee
1975
Bill Alexander
1976
Klaus Bitterauf
1977
Mike Joffee
1978-79
Stan Pearlman
1980
Percy Lunn
1981
Charlie Jones
1982
Kyle Rathbun
1983-84
George Houser
1985-86
Ken Fengler
1987-88
Susan Trapp
1988-90
Mike Tarter
1991-92
Jim Hayes
1993
Jerry Remillard
1994
Lou Gonzalez
1995-96
Bob Varela
1997
Mike Tarter
1998
Sam Petrocelli
2006-07
Roger Fabel
2008-09
Dan Smithyman
2010-12
Steve Kidd
2013-14
Mike Grant
2015-16
Ed Kohly
2017-18
Dan Doyle
2019-20
Steve Kidd
2021-
Peter Olliviere