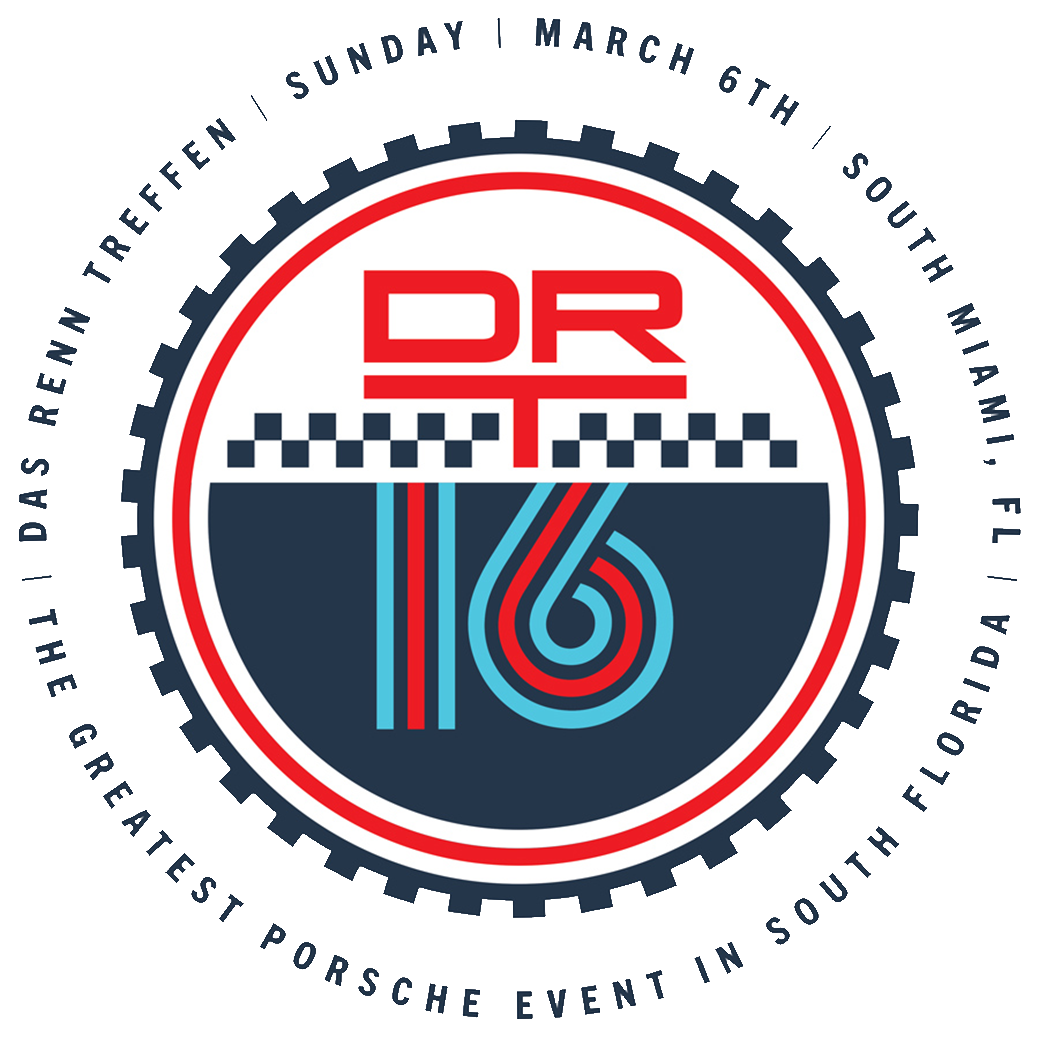 * * * FOR IMMEDIATE RELEASE * * * FOR IMMEDIATE RELEASE * * *
 AT THE START OF RACE SEASON THE LARGEST PORSCHE GATHERING RETURNS TO SOUTH FLORIDA
On March 6th over 250 Porsche vehicles are expected to line the streets of the City of South Miami
(Friday, February 12, 2016) – Miami, FL – Das Renn Treffen (DRT), the highly anticipated annual Porsche concourse returns to South Miami's iconic Shops at Sunset Place on Sunday, March 6, 2016. Over 250 cars worth over $20 million dollars are expected to adorn the streets with state-of-the-art German engineering.
Guests are invited to enjoy the relaxed and safe environment created by pure car enthusiasts; an environment where fans, car collectors, drivers and aficionados will be gathering together to show off or just admire their prized possessions. Visitors will have the opportunity to walk through a curated display of 21 classes showcasing the last 60 years of Porsche; including historic race cars and their street car descendants are expected to be exhibited as an example of Porsche's commitment to passion, performance and motorsports.
Alvaro Rodriguez de Vera, ParkHaus1 Director and one of the founders of the renowned Volksblast event, started Das Renn Treffen, literal translation: the race meet, last year. With over 150 displayed Porsches and nearly 10,000 spectators in its first year alone, DRT is expected to outperform and almost double last year's numbers.
Das Renn Treffen is a local community event taking place on Sunset Drive between 57th Avenue and US 1. The City of South Miami is working alongside the event to ensure street closures, traffic re-routes, security and safety of the guests and vehicles involved in what is considered to be the largest Porsche gathering in South Florida. For further information please visit www.dasrenntreffen.com.
###
MEDIA CONTACT
Kerstin Sachl, Daddy PR
Phone: 305.450.1378
E-Mail: [email protected]
---