Fast Cars & Food Trucks
March 10 th , 2018
9:00 AM to 4:00 PM
Plantation Heritage Park
1100 S. Fig Tree Ln. Plantation FL 33317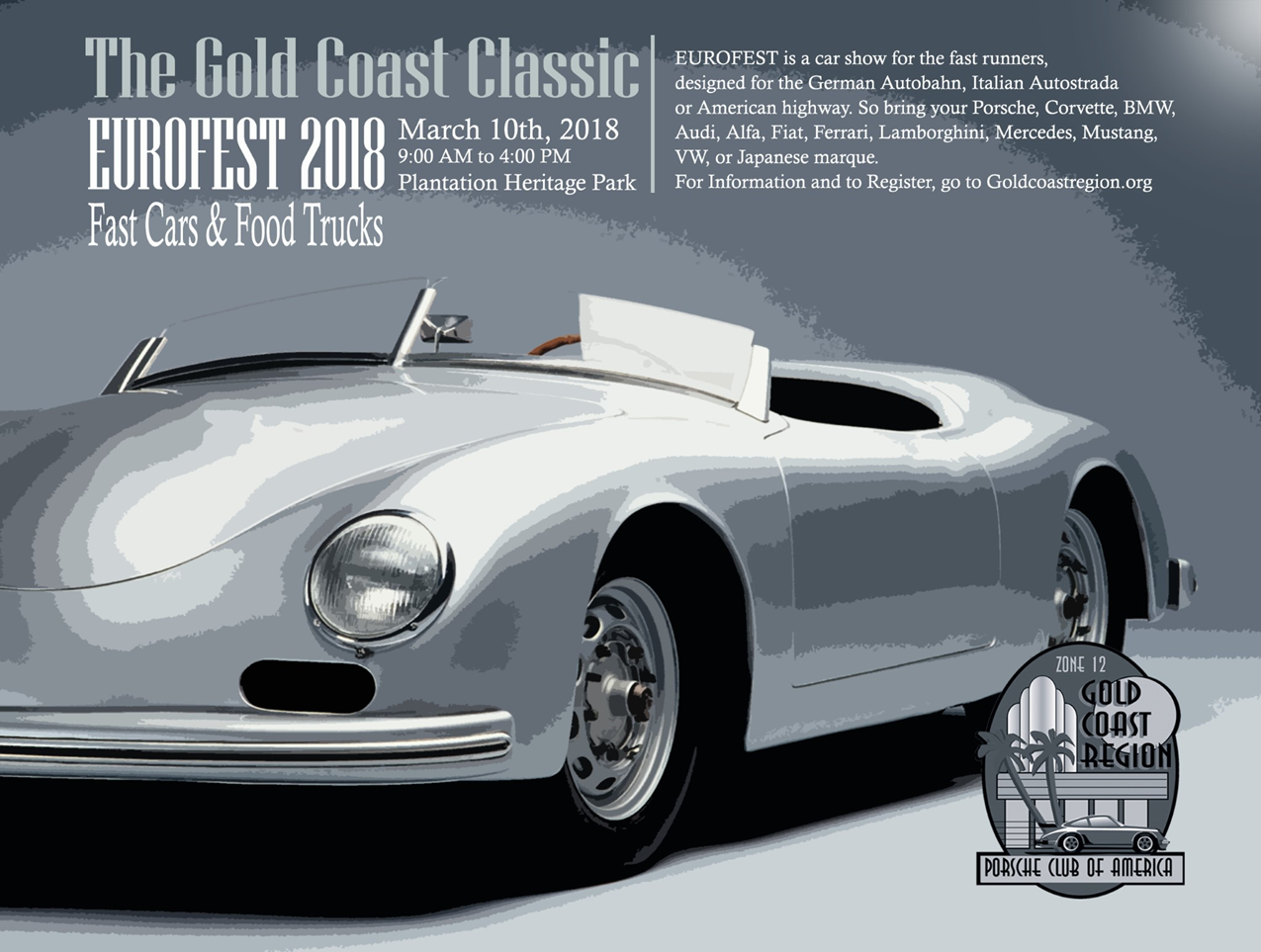 Porsche Club of America, Gold Coast Region, presents EUROFEST, a celebration of European cars, food trucks, and all things automotive. This is the only car show in South Florida that combines European and exotic cars, food trucks, music, and includes Swap Meet, a detailing training center, and a multiple club reception tent in one event. The event is expected to attract over a thousand spectators from the surrounding tri-county area. (Miami-Dade, Broward and Palm Beach Counties). Enthusiasts will be able to admire the finest and most diverse lineups of European road runners in South Florida, and to take part in the technical discussions and demonstrations. Families will enjoy delicious food truck meals, music, and the Swap Meet.
This year EUROFEST will celebrate Porsche as the honored brand, with recognition of Mercedes, BMW, Audi, VW, Alfa, Fiat, Ferrari, Lamborghini, American Muscle and a host of others. First second and third place trophies will be awarded in each class (with the classes defined by Make of car). Additional trophies will be awarded for sponsors awards, club participation and best of show.
The Venue
The event will be held at Plantation Heritage Park, located in the city of Plantation, Broward County Florida. The park offers several acres of wide open grass areas surrounded by lush trees, and a scenic lake as a background. This combination by itself makes it ideal for a car show, but when you include ample parking for both cars and trailers, and hotels and restaurants nearby, you truly have the ideal place for an event like EUROFEST.
EVENT ADMISSION
Admission to the event is free for spectators, however the park charges a fee of $1.50 per person to enter the park.
HOW TO REGISTER
Register at clubregistration.net. If this is your first time registering for a Porsche Club event you will have to create an account on clubregistration.net. After creating the account look for EUROFEST by date, March 10 th 2018. Follow the instructions to reserve your place in the event.
AVAILABLE CLASSES
All cars entered in the EUROFEST CAR SHOW will be eligible to win a trophy. Trophies will be awarded based on the decision of the expert judges for each make. Cars entered in the car show must be in place on the show field by the close of registration at 10:00 AM. Anyone appearing after that time will be excluded.
Porsche
Classic Water Cooled Porsches
BMW
Mercedes
German Other
European
Japanese
American Muscle
Exotics
CAR SHOW ENTRY FEE
A fee of $30.00 per car will be charged for each car entered in the event.
TROPHIES
Trophies will be awarded for each class represented. Class judging will be by model, within the make, or by year within models, with special awards for Best in Show and Sponsor Awards. Only cars judged under full Concours rules will be eligible for Best of Show award.
EVENT HIGHLIGHTS
1. FOREIGN AFFAIRS CONCOURS COLLEGE
A large tent will be the location for the Gold Coast region's Annual Foreign Affairs Concours College. Under the large tent, technical and detailing demonstrations will be held throughout
the day.
2. TUNERS MOTORSPORTS SWAP MEET
The TUNERS MOTORSPORTS annual Swap Meet, sponsored by TUNERS Motor Sports will be featured this year at EUROFEST in a greatly expanded format. The Swap Meet will be open to all car- related items across all makes participating in the event. Each participant wanting to sell items in the Swap Meet must register. All items offered for sale must be neatly displayed and marked for price. All items must remain in the designated Swap Meet area. A participant in the Swap Meet can opt for a Swap Meet Support Person. This person will oversee the seller's items so they can enjoy the car show. If a buyer should show interest in the seller's items, the Support Person will contact the seller by cell phone to return to his Swap Meet table.
3. PCA NEW MEMBER'S TENT
The Region will be welcoming all new members, by hosting them at a special New Member's Tent. Upon showing their ID card, new members will receive a gift bag containing items just for
them.
4. CLASSIC WATER COOLED PORSCHE CELEBRATION
The annual Water Cooled Reunion that celebrates the 41 years of the 924, 944, 968, and 928's. These Porsches will be judged among themselves and not as a part of the Porsche category.
5. FOOD TRUCKS
Several food trucks will be on the premises allowing participants and spectators to enjoy a variety of different foods at their leisure.
6. MUSIC
Live music will be performed throughout the day.
7. FACILITES ON SITE
The park has several playgrounds for spectators or participants who have children. There are also restrooms located around the show field.
---